This is an archived article and the information in the article may be outdated. Please look at the time stamp on the story to see when it was last updated.
MAGNOLIA, Texas — A father and son are behind bars Friday after deputies seized a pound of marijuana, several other drugs and cash from a home in Magnolia, the Montgomery County Constable's Office said.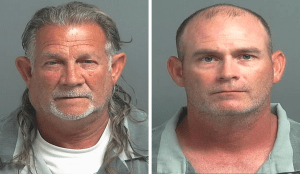 Alan Lauve, 61, is charged with possession of marijuana, money laundering and possession of dangerous drugs. The suspect's son, Craig Lauve, 40, is charged with possession of marijuana.
The Lauves were arrested Wednesday after investigators executed a search warrant at their residence in the 16000 block of Towering Oaks Trail. The constables office said it has had numerous complaints of drugs being sold at the home.
When deputies arrived they found marijuana, codeine pills, Xanax pills, 404 pills of Viagra and over $5400 cash.
Both father and son were transported to Montgomery County Jail.