This is an archived article and the information in the article may be outdated. Please look at the time stamp on the story to see when it was last updated.
HOUSTON — A local woman, her 15-year-old son and a third suspect have been arrested after the fatal shooting of a man about six months ago in northwest Houston.
Christian Castro, 21, was found dead in the 14500 block of Patterson Road around 9 p.m. on March 16. He had suffered several fatal gunshot wounds and his body was left on the roadside, according to the Houston Police Department.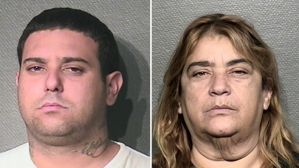 Investigators said Lourdres Roman, 53, and Emmanuel "Ruize" Del Olmo, 32, brought the victim to the location after he asked for a ride. Del Olmo is accused of pulling the trigger.
Roman's son is also charged in the case although his role in the slaying remains unclear.
Police said all three suspects were taken into custody without incident Aug. 24 and charged with murder.
Roman is being held on a $1,000,000 bond and Del Olmo for $75,000.