This is an archived article and the information in the article may be outdated. Please look at the time stamp on the story to see when it was last updated.
WALKER COUNTY, Texas — The Walker County Sheriff's Office is investigating after 5,255 marijuana plants were found on a property, and a gardener found at the scene escaped deputies.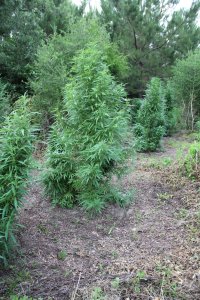 After receiving a possible narcotics call on June, investigators headed to an area on FM 2989 at 3:10 p.m. When officers arrived, they talked with an employee of the property owner, who said marijuana plants had been found on the property.
Officers estimate the find is worth a little under $8 million— $7,866,000 to be exact!
Deputies were allowed to search the property and while looking, they spotted a gardener walking toward them. When the officers announced they were with the sheriff's office, the man allegedly turned around and ran into a heavily wooded area.
Deputies found a camp site that suggested someone had been living there, but were unable to find the man.
Investigators said the man is about 6 feet 2 inches tall and believe to be in his late 20s or early 30s. He was wearing blue jeans and a lit color t-shirt.
Anyone with information is asked to call the sheriff's office at 936-435-2400.