This is an archived article and the information in the article may be outdated. Please look at the time stamp on the story to see when it was last updated.
HOUSTON — Houston firefighters responded to two burning mobile home trailers Wednesday morning at neighboring residences in the Kashmere Gardens area, according to investigators.
The trailers were sitting in the house's driveways in the 5900 block of Hilary Street near Dabney Street when fire trucks arrived at 1 a.m. One of the home owners claims a power transformer at the top of a pole exploded and the sparks landed on his trailer causing the vehicle to catch fire. The flames then spread to a neighboring trailer, investigators said.
No injuries were reported.
The trailers were completely engulfed in flames and the outside wall of both houses received minor heat damage, firefighters said.
The following images were taken at the scene: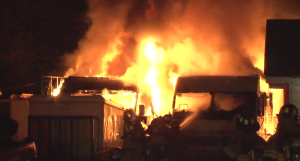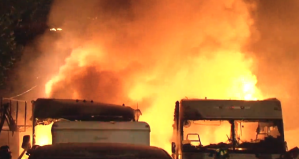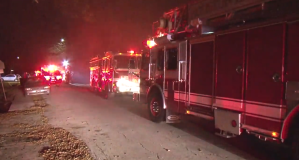 More Locals Headlines:
Stay connected! Download the CW39 NewsFix app for iOS or Android devices and the CW39 Weather app for iOS or Android devices.