This is an archived article and the information in the article may be outdated. Please look at the time stamp on the story to see when it was last updated.
HOUSTON — It couldn't be more obvious we're in the season of the beard! In 2017 alone, the internet has given us an overload of Facebook groups worshiping men with beards, hilarious beard-focused memes and even phone apps for beard-wearers and beard-strokers.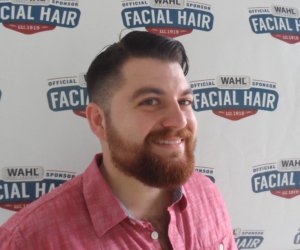 And then there's November…the month that encourages all eligible men (and women, depending on your circle) to skip shaving thier scruff.
Wahl Home Products, which claims to be the creator of the world's first battery-powered facial hair trimmer, has released its annual list of Most Facial Hair Friendly Cities in America, and Houston made the cut at a modest No. 9. The company launched a competition in April to find its Wahl Man of the Year, a man who subjectively has the best beard in America.
Brendan Burke has been chosen to represent Houston. Starting this week, he'll be going against 11 beard-clad delegates in the Wahl Man of the Year competition. The stakes: $1,500 and being featured in a national advertisement.
The winner will be decided through voting on Wahl Grooming Facebook page. Voting ends on Dec. 7.
Is Brendan Burke man rocking the best beard in America? For the sake of winning: YES!
So what are the most beard friendly cities in the country?
According to Wahl, these cities are the most welcoming when it comes to men's facial hair (in ascending order):
Chicago
"Not all pizza and hot dogs, the Windy City means business when it comes to tall buildings and street style that's inclusive of facial hair. With scruff becoming more widely accepted in the workplace, it's not surprising Chi-town jumped up eight spots to make the top 10 list."
Houston
"Houston" was the first spoken word from the moon, meaning it's only right that Houstonians sport out-of-this-world facial hair. Speaking of sports, the city is home to six professional major league teams, and we all know athletes like to show off unique scruff – thank you #FeartheBeard."
Detroit
"Known as the heart of the American auto industry, Motor City revved up a hot 26 spots to make the top 10 list. Could this be because all good mechanics have rockin' beards? A city on the upswing with thriving arts and architecture, we think facial hair is there to stay."
Portland
"Portland may be a well-kept secret, however it's no secret it's a hip and happening place boasting food trucks aplenty, coffee shops galore, and facial hair for days. The largest and rapidly growing city in Oregon is rich in history, and has more bearded pedal bicyclists per capita than any other U.S. city."
San Francisco
"The capital of cultural bohemianism, San Francisco has a rich hipster culture, which all but demands a sweet 'stache and complementary skinny jeans. The land of fog and all things fabulous is home to the Golden Gate Bridge and a gold rush of facial hair catapulting them up four spots this year."
Seattle
"Built on the logging industry, the lumberjack beard never lost its touch in Seattle, making it a top 10 facial hair contender four years running. What's more, beards and brews naturally go together, and Seattle is known for brewing up great beer as well as its better looking counterpart, the beard. "
Minneapolis
"Could infamous cold winters have something to do with abounding facial fuzz? We think this means of survival is also a statement of manly fashion in the Midwestern city once graced by late "Minneapolis sound" and facial hair icon, Prince."
Washington D.C.
"The U.S. capital's rich facial hair history may be why the city has hovered near the top of the list for the last few years. Notable figures boasting winning whiskers include: General Burnside, and Abraham Lincoln, where his statue at the Lincoln Memorial proudly boasts a full beard that he likes to 'reflect on' daily."
Atlanta
"For a city that once rose from the ashes, Atlanta still smolders with style. In fact, game day grooming for its sports teams often includes extra face flair, proving you'll find fuzz on more than peaches in the ATL."
Dallas
"The big D is known for having some of the biggest sports fans. These Dallas devotees are also known for their follicular fortitude. For example, The Mavs ManiAACs, a beloved brood of bearded basketball fans, are one of the reasons the city jumped up two spots from last year. The city's music scene, beard-friendly workplaces, and multiple beard and mustache clubs also didn't hurt in achieving the title of America's No. 1 hairy haven."