This is an archived article and the information in the article may be outdated. Please look at the time stamp on the story to see when it was last updated.
SANTA FE, Texas—  The Santa Fe Police Department has confirmed Santa Fe High School was placed on lockdown Wednesday following a possible threat to the school.
A spokesperson with the Galveston County Sheriff's Office confirmed there were reports of shots being fired, but said "nothing has been found, nothing located, no injuries.
Students at the high school began circulating a photo on social media that investigators believe led to the lockdown.
More Headlines:
Historic bricks laid by slaves 100 years ago returned to Freedmen's Town
Houstonians rank in top 19% of cities that overspend on cars, local celebrities explain the obsession
Fort Bragg soldier placed back in Harris County custody, bond set at $1M for alleged sexual assault
One student @Melissa_Timm95 wrote on Twitter," Y'all joke about the shootings & yet in Santa Fe, TX there is an active shooter at SFISD HIGH SCHOOL AT THIS VERY MOMENT. My mom is in that building! Stop joking about this!!!"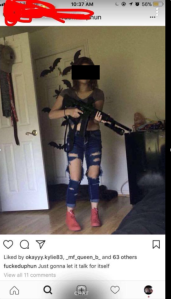 https://twitter.com/Melissa_Timm95/status/968910174294507520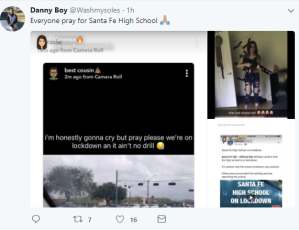 The lockdown comes  just weeks after Superintendent Leigh Wall sent out a safety and security memo to the parents and staff through out the district. The memo addressed school violence in wake of the Parkland, Florida high school shooting that left 17 dead.
Stay connected! Download the CW39 NewsFix app for iOS or Android devices and the CW39 Weather app for iOS or Android devices.