This is an archived article and the information in the article may be outdated. Please look at the time stamp on the story to see when it was last updated.
TEXAS— Following a Flash Flood Warning issued by the National Weather Service for parts of southeast Texas, many school districts have made the decision to close campuses Tuesday.
The flash flood watch was originally in place until Tuesday morning, but has been extended to 6 pm this evening. The National Hurricane Center has given the tropical depression a 60% chance of development as it travels towards the Texas Gulf Coast.
Similar to Monday's rainfall, the greatest threat will be closer to the coast, but another potential threat may be set in motion by a cluster of storms near the Yucatan. Residents should be cautious when travelling as reports of street flooding in Freeport, as well as street and yard flooding in Galveston County continue to come in.
The best chance for heavy rain will be near the coast again, and so the flash flood watch has been extended to 6 pm.
Street Flooding (Anticipating Moderate Rainfall Rates; 1-2″/hour)
– Drive with caution. Car may flood in low-lying areas. Ponding on roadways may increase risk of hydroplaning.
– Pay attention to the weather. Monitor the NWS, your local media, HCFCD and other official weather information sources.
– Rain may move repeatedly across the same area, causing a rapid rise on creeks and bayous. However, creeks and bayous are not likely to exceed their banks.
"Turn Around, Don't Drown" Flash Flooding (Anticipating Localized High Rainfall Rates; 2-4″/hour)
– Turn Around, Don't Drown. Isolated underpasses or low-water crossings may be life-threatening.
– Monitor the NWS, your local media, HCFCD and other official weather information sources
Here is a list of delays and closures for Tuesday:
Texas City ISD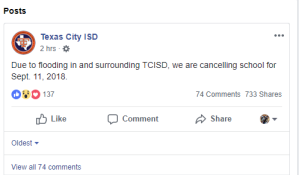 Dickinson ISD