This is an archived article and the information in the article may be outdated. Please look at the time stamp on the story to see when it was last updated.
HOUSTON — The search continues in Dickinson for missing 18-year old Arionna Parham, who was last seen leaving for Dickinson High school two weeks ago -- on May 23-- and hasn't been seen since.
Texas EquuSearch volunteers and members of the Houston Police Department has been combing the Dickinson area since Thursday, but there's been no sign of her.
Parnam's sister, Dajournah Frenchwood, says Parham left for school on foot even after she told her sister to wait and she would give her a ride.
Frenchwood says her sister left with no clothes or asthma medication and wonders if her breathing issues had something to do with it.
The family hopes if Parham is out there, she will reach out, so they can get her home safely.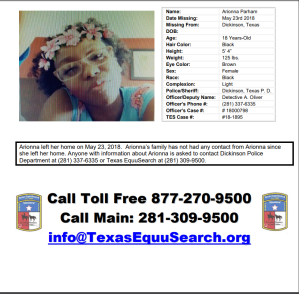 Anyone with information about  Parham is asked to contact the Dickinson Police Department at (281) 337-6335 or Texas EquuSearch at (281) 309-9500.