This is an archived article and the information in the article may be outdated. Please look at the time stamp on the story to see when it was last updated.
HOUSTON — Lipstick. Wigs. Bras. And flawless curvature — is that what queens are made of? Overtime, different generations have inspired new drag techniques with their own snap, crackle and pop! The drag scene, which started as a strictly underground community, started to expand and unprecedented drag subcultures started to emerge.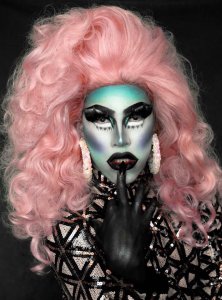 There's a long list of distinguishable drag styles: terrorist, fish, androgynous, bearded, transdrag, pageant queens and more. However, when most people think of the drag community, they picture two distinct categories: the traditional female impersonation and Camp.
Andres Gracia, who transforms himself into Dulce Strutts, said Camp is less about transforming into a natural-born woman and, instead, portraying a cartoon-like figure and presence. Strutts said her muse exudes a more fun and colorful energy.
"Camp to me is an exaggeration and a caricature of the female form and even of drag; the female impersonator form," Strutts said. "It's about creating your fantasies."

To be a woman…or to just be woman-like? In some designs, the feminine fixtures are there, but the characters look out of this world or even this dimension.
The gaudy fashions of Camp became a staple of drag style after the premiere of RuPaul's Drag Race in 2009. Outsiders and inspiring queens were introduced to the illustrious personas of Bob the Drag Queen, Sharon Needles, Bianca Del Rio and Kim Chi.
Strutts' interest in drag stems from a passion for photography that developed in high school. He would often disguise himself in elaborate makeup and costume for his photos, a practice that eventually inspired the artist to do drag.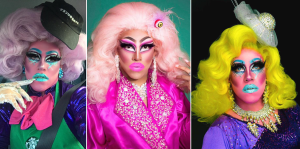 Memorable looks are just as big a part of drag as is humor, according to bearded camp artist Darius Vallier. On stage, he's known as Blackberri.
"Camp is over the top comedy—big wigs, big costumes," Blackberri said. "It's more for the shock value, the gag of it."
Blackberri said he was always interested in strong female characters growing up— comic book and cartoon characters like "Storm" from X-Men and The Little Mermaid's "Ursula."
"I grew up looking at a lot of art. Betty Page, Vargas girls; they're always like really strong women and that always intrigued me," Blackberri said. "I wanted to be like one of those women: super strong, forceful, didn't answer to anyone. Just doing their own thing."
The costumes and makeup that breathe life into Camp often brings traditional drag to an animated level. The wigs are often bigger, the colors are bolder and typical drag rules are completely ignored.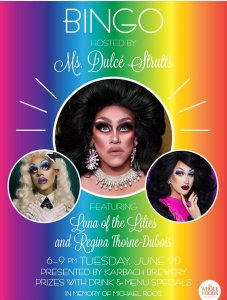 "I like to pick a lot of campy fabrics and make it pretty," Blackberri said. "It's something nice having something that's so ugly, and make it pretty. Like crazy things, like a dress covered in pigs or just an Eggo waffle outfit— And just make it look glamorous!"
In the Houston drag scene, Camp has received mixed criticism as groups — sometimes called a house or family — disagree on whether authentic drag performance is more committed to skillful female impersonation or unregulated artistic expression.
"When I started, I just told myself I want to be like what this character is in my head— colorful, fun, exaggerated, completely ridiculous," Strutts said. "I've always imagined myself in the future, even just now, as this stupid huge feathers and rhinestones and just huge hair."
Beyond the Beard: Bearded Drag
Within the drag community, a group still labeled as taboo in most circles, there are outcast.
Too many consider the unapologetic masculinity of bearded queens an affront to the bottom line of drag: female impersonation.
"Bearded drag is pushing gender boundaries," Blackberri said. "You have someone that's so glamorous, but that has a beard. It makes you think twice about 'is it a man or is it a woman. Is this on purpose? Is it not on purpose?' It makes you rethink what you think a woman is."
In a Houston bearded drag pageant at Tony's Corner Pocket, several queens took the stage and attested to the rejection the art form has faced. Their testimonies described a drag world they say is obsessed with slender figures and hairless skin; one that discourages bearded queens from participating in the national competitions, and even smaller events.
Of course, the negative perspective doesn't reflect the thoughts of the entire community, which has tight-knit cliques of acceptance within.
"It's harder for the older generations to accept [bearded queens] because they're like 'I can't take these girls seriously with these beards. They're suppose to be doing women. But nobody said drag is supposed to be women, right? It's just drag. It's just an art form," performer Angelina DM Trailz said.
Looking beyond the facial hair, most bearded queens are inspired comedians, masterful designers, skilled actors, and would consider themselves Camp artists. Then again, but there are plenty who don't. Either way, it is a style that further pushes the boundaries of female impersonation.
What is a drag queen made of? It's hard to define, and each artist has a unique experience and contribution to craft. There appears to be only one uniting trait: a willingness to disregard the onlookers and unapologetic transform oneself.
"What we do to a core is challenge society's ideas about gender, and I feel that's the ultimate challenge," Strutts said. "Camp, it just exudes— fun!"
This feature is Part VI of a CW39.com digital exclusive series, #Slay: Exploring Houston's drag community. There will be a new feature added every Thursday. Follow along for the complete coverage.
Introduction: #Slay: Exploring Houston's drag community
Part I: #Slay: The Makeover Takeover: How drag queens inspire the way women "beat" their face today
Part II: #Slay: Go BIG with fierce drag fashions or exit stage left 
Part III: #Slay: "Death Drop" with the Drag Gawds — it's all about the performance
Part IV: #Slay: It's no illusion — drag celebrity impersonators are the real deal!
Part V: #Slay: Perfectly-imperfect and unapologetic, androgynous performers take drag next level