This is an archived article and the information in the article may be outdated. Please look at the time stamp on the story to see when it was last updated.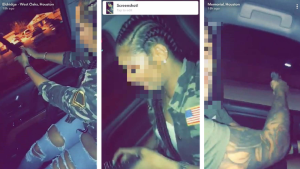 HOUSTON — The Houston Police Department has received multiple calls from concerned residents after a disturbing Snapchat video surfaced on the popular internet forum Reddit.
In the three videos shared by Reddit user "Harriscope," a young man armed with a handgun and woman carrying a loaded semi-automatic weapon are seen driving through a neighborhood while firing numerous shots outside the car window. The duo appears to be smiling and laughing as they cruise through what appears to be Memorial Drive near Crossroads Drive in Houston.
Harriscope had no involvement in the incident, and posted the video he found to Reddit as a concerned resident.
The CW39 Houston reached out to the police department, which said it can not confirm when the videos were filmed or their locations. Police have been asked to look into the videos, but with little to no information to go on and without a formal complaint, not much can be done.
"We would need someone whose property was damaged or a victim of some sort or a witness or the person who took the video, to come forward and file a report," HPD spokesperson Kese Smith said told the Houston Chronicle. "At this point in time, nobody has come forward to file a report or make a complaint."
HPD is asking anyone with information regarding the video to call them at 713-884-3131.