This is an archived article and the information in the article may be outdated. Please look at the time stamp on the story to see when it was last updated.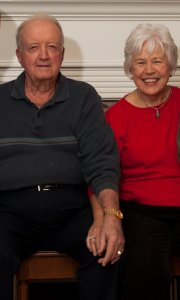 HARRIS COUNTY, Texas — The Harris County Sheriff's Office is searching for new leads in the unsolved murder of an Atascocita couple three years ago.
Don Rentz, 84, and Reda Rentz, 80, were found inside their home in the 6700 block of Pacific Crest Court on March 7, 2015 in the Kings River Village subdivision.
Investigators said the couple's family had last spoken with them on Feb. 26, 2015, and became concerned after not being able to make contact with them for several days.
According to medical examiners, the couple died as the result of blunt for trauma to the head. It's possible their killer was trying to rob the happily married couple, who lived alone.
Don Rentz was a proud veteran who served in the U.S. Navy aboard the U.S.S. Coral Sea. He worked for A.G. Edwards for more than 30 years as a stockbroker.  Reda Rentz was an inspiration to all, earning her degree from college at age 60, and was a cancer survivor.
The couple was active in their community and attended church regularly in the Kingwood area.
Anyone with information is urged to call the HCSO homicide unit at 713-274-9100.
Crime Stoppers will pay up to $5,000 and an additional $15,000 has been added for information leading to the charging or arrest of a suspect in this case. Information may be reported by calling 713-222-TIPS (8477) or submitted online at www.crime-stoppers.org.
Tips may also be sent via a text message by texting the following: TIP610 plus the information to CRIMES (274637). All tipsters remain anonymous.
More Locals Headlines:
Stay connected! Download the CW39 NewsFix app for iOS or Android devices and the CW39 Weather app for iOS or Android devices.