This is an archived article and the information in the article may be outdated. Please look at the time stamp on the story to see when it was last updated.
HARRIS COUNTY, Texas — In preparation for hurricane season, the Harris County Pct. 4 Constable's Office has purchased two new boats to help with possible high water and swift water rescues in the local area.
The crafts — both 19′ Boatright Boats powered — are handmade from heavy gauge aluminum, have self-bailing hulls and are unsinkable. The boats are also fitted with 115 horsepower outboard engines. They're designed to run in shallow water and are rugged enough to meet the demands of rescue situations in tight quarters, the constable's office said.
The boats are fitted with top rails in order for officers to best assists elderly, handicapped or incapacitated residents.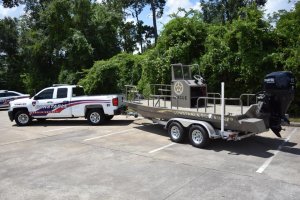 "With the lessons learned during Hurricane Harvey, the additions of these boats to our department is certainly a benefit to the citizens of Precinct 4," Constable Mark Herman said.
Constable deputies will be certified and receive training in both high water and swift water rescue to safely operate these rescue boats during rescue operations. The constable's office will also partner with Commissioner Jack Cagle's office on this training to ensure the best service.
"During Hurricane Harvey, Constable Deputies and Precinct 4 employees were together in dump trucks evacuating citizens from flooded areas, now we have these rescue boats also," the constable's office said in a release.