This is an archived article and the information in the article may be outdated. Please look at the time stamp on the story to see when it was last updated.
HOUSTON — The Houston Police Department has arrested an alleged drunken driver after the suspect crashed into a police vehicle Wednesday night, authorities said.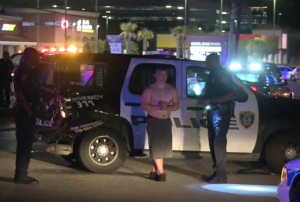 Investigators said the officers — the driver a 6-year police veteran and the passenger with 2 years experience on the force — were inside an HPD Tahoe at a red light on Westheimer Road near Royal Oaks Club Drive. The suspect, who was headed westbound in a pickup truck on the same street, crashed into the officer's vehicle.
"It was a unit that was just clearing off of a call, " HPD Sgt. Thomas Fendia said. "The drunk driver tried to slam on his breaks, tried to swerve around to get around our unit, but there was another vehicle at the intersection, as well. "
The officer tried to move out of the way, but he couldn't get out of dodge in time. The pickup truck also hit the gray car next to the Tahoe. Fendia said the pickup truck went off road before coming to a complete stop.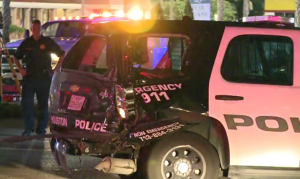 "The officers are in good shape for the most part — a little banged and bruised up, but they're not going to the hospital," Fendia said.
No one involved in the accident was seriously injured, police said.
"Based off the preliminary investigation, he'll at least be charged with a DWI tonight if not a higher intoxication charge," Fendia said.