This is an archived article and the information in the article may be outdated. Please look at the time stamp on the story to see when it was last updated.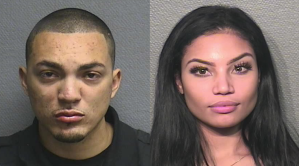 HOUSTON — The man accused of firing guns into a west Houston neighborhood while recording the incident on Snapchat  turned himself in to law enforcement Tuesday after his alleged cohort was arrested the morning before.
Sierra V. Tarbutton, 27, was taken into custody Monday and is charged with felony criminal mischief and felony deadly conduct. She has been booked into the Harris County Jail, where her bail is set at $200,000.
Michael Anthony Cuellar, who police have identified as the driver in the video, is facing the same charges. Court documents said Cuellar, 29, is an accused drug dealer and local rapper, who goes by the name 'Money Mike.'
Cuellar has paid his $200,000 bond at the Harris County jail and has since been released.
[WARNING: The following video contains language and other content that may be inappropriate for some viewers.]
Tarbutton had been out on deferred adjudication after being charged with retaliation and harassment of a public servant in a prior incident.
Prosecutors said she claimed to know cartel members and has threatened the lives of a police officer's daughters in the past. Tarbutton is quoted in court documents saying,"that is two cute little girls, those are going to be two cute little tombstones."
Records show Tarbutton has prior convictions including a DWI in January 2016 and hinder apprehension in September 2010.
The Houston Police Department received multiple calls from concerned residents after the disturbing Snapchat video surfaced on the popular internet forum Reddit on Sept. 27. Investigators were able to identify the suspects using multiple social media platforms and prior mugshots.
In the three videos shared by Reddit user "Harriscope," a young man armed with a handgun and woman carrying a loaded semi-automatic weapon are seen driving through a neighborhood while firing numerous shots outside the car window. The duo appears to be smiling and laughing as they cruise through what appears to be Memorial Drive near Crossroads Drive in Houston.
Investigators have identified the weapon Tarbutton allegedly used as a Masterpiece Arms MPA30T semi-automatic pistol with an extended magazine and fake suppressor attached to the muzzle, according to court documents.
Multiple complaints have come forward since the shooting; including several residents looking to pursue charges and a business owner claiming $33,000 store sign was permanently damaged.
Police said no one was injured during the shooting.
Contact HPD or @CrimeStopHOU with any info on these suspects wanted for felony deadly conduct/criminal mischief. #hounews pic.twitter.com/wUlGcYQaa1

— Houston Police (@houstonpolice) October 2, 2017