This is an archived article and the information in the article may be outdated. Please look at the time stamp on the story to see when it was last updated.
SPRING, Texas — Two teens have been arrested and charged with capital murder after a shooting in Spring's Birnam Wood subdivision, the Harris County Sheriff's Office announced Thursday morning.
Julian Xavier Velarde and Roderick Gerome Alexander — both 17 years old — are accused of robbing and killing Diego Andrade, 18.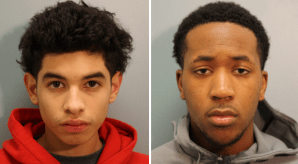 Investigators said the three young men were sitting inside a vehicle in the 4400 block of Adonis Drive around 4 p.m. Tuesday when the victim was fatally shot.
The sheriff's office released surveillance video hours later showing both Velarde and Alexander running away from the scene, deputies said.
Both suspect are in custody at the Harris County Jail.