This is an archived article and the information in the article may be outdated. Please look at the time stamp on the story to see when it was last updated.
MAGNOLIA, Texas — Three teenagers have been arrested and accused of using counterfeit bills at a Jack in the Box restaurant in Magnolia, the Montgomery County Sheriff's Office said.
The teens have been identified as Welsey Brasseaux, 17, Joshua Range, 17 and Shannon Scott, 18.
Deputies were dispatched to the 6700 block of FM 1488 just before midnight on Aug. 20. While driving to the call, officers were told the suspects tried to pass a counterfeit $100 bill at as legal currency at the restaurant, as well as at a Denny's in the 6100 block of FM 1488. The teens left the restaurant when they were confronted by employees.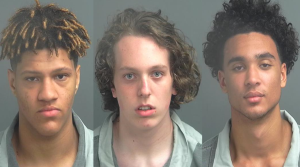 The sheriff's office said the men went to the Westwood North subdivision, where they broke into several unlocked vehicles and stole various items including laptops, cellphones and large bags.
One car owner saw the suspects burglarizing his vehicles through his surveillance camera and alerted the sheriff's office. The victim gave a witness account that allowed investigators to find the suspects, the property they allegedly stole from the cars and other counterfeit bills.
The suspects were charged with forgery of a government document and two counts of burglary of a motor vehicle. Additional charges could be forthcoming as this investigation is ongoing.