This is an archived article and the information in the article may be outdated. Please look at the time stamp on the story to see when it was last updated.
HOUSTON — Multiple counties in the Houston area remain under tropical storm warning Wednesday morning as all eyes focus on Cindy's movement toward the coasts of Louisiana and Texas, according to the National Hurricane Center.
Meteorologists report Cindy remains rather disorganized with more confidence in forecast landfall near the Sabine River. As of 11 a.m, the tropical storm has reached maximum sustained winds of 50 mph.
The warning impacts several local counties including Harris, Galveston, Chambers and Liberty counties. Meteorologist predict these areas will experience tropical storm conditions within the next 24 hours. Click here to see more weather advisories.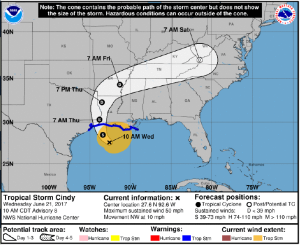 Widespread rises to action stage are expected across rivers and tributaries in southeast Texas and into next week. Residents should be on the lookout for tributaries of San Jacinto and Trinity River basins.
ALSO READ: It's officially Hurricane Season! Harris County officials share preparation tips
Isolated rains of 1 to 3 inches are expected to hit the eastern parts of southeast Texas sometime Wednesday night, according to the National Weather Service. Rain totals have been scaled back across southeast Texas and west of where the center is predicted to make landfall.
Tropical Storm Cindy is located just over 180 miles southeast of Galveston and continues to move northwest toward the Texas and Louisiana coasts. The warning covers coastal areas from San Luis Pass in Texas to the mouth of the Pearl River in Louisiana.
National Hurricane Center said Cindy is expected to bring heavy rainfall including minor coastal flooding around the Bolivar Peninsula. On Wednesday, officials issued a voluntary warning for residents of the Bolivar Peninsula with medical and other special needs. There is a possibility of limited services available around times of high tide during Wednesday Afternoon through Thursday morning due to potential flooding along Highway 87.
MUST READ: Galveston residents prepare as Tropical Storm Cindy approaches
To stay up to date, check back with CW 39 Houston!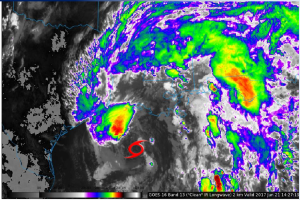 City of Houston prepares for Tropical Storm Cindy
The Houston Fire Department is evaluating the status of their rescue and evacuation boats and has them positioned all over the city as part of their normal readiness.
The Public Works and Engineering Department is preparing vehicles that can traverse high water in the even they are needed. They are also evaluating the need for pre-staging barricades at designated low-water areas throughout the City
The Houston Police Department has high water rescue trucks available for use in the event of significant street flooding.
The Office of Emergency Management is coordinating information with various partners, including neighboring jurisdictions and the State of Texas. In the event it is needed, OEM is also prepared to activate the City's Emergency Operations Center.
Other resources:
• Forecasts: National Weather Service Houston-Galveston
• Flood Safety: National Oceanic and Atmospheric Administration
• Local Road Conditions: Houston Transtar
• State Road Conditions: DriveTexas.org
[Eye Opener's Maggie Flecknoe shares a brief tropical storm update at 7 a.m.]