This is an archived article and the information in the article may be outdated. Please look at the time stamp on the story to see when it was last updated.
HOUSTON—A man and woman were killed and a minor was wounded Sunday afternoon in what police called a domestic violence murder-suicide in west Houston.
According to HPD Homicide, officers responded to a shooting call at 7900 block of Corporate Dr. around 12:05 p.m. When police arrived, they found a woman dead in the bathroom with the male shooter nearby.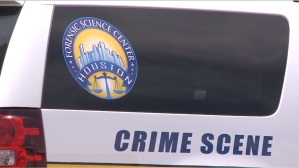 Bobby Dobbins with HPD'S Homicide Division said, "The woman headed to take a shower, when the stepdad of the four children at followed and shot the mother, before turning the gun on himself. The bullet hit an 8-year-old girl who is in stable condition and recuperating."