Two men attempt counterfeit money scheme using PlayStation 4 at Walmart in Spring, deputies say
This is an archived article and the information in the article may be outdated. Please look at the time stamp on the story to see when it was last updated.
MONTGOMERY COUNTY, Texas — The Montgomery County Sheriff's Office needs the public's help identifying two men accused of stealing electronics from a Walmart in Spring using counterfeit money.
Officers responded to the 1000 block of Sawdust Road on Jan. 8 after employees reported the alleged crime. Investigators said the men arrived at the store together; one suspect went to the return desk for a refund on a PlayStation 4 and the other went to the electronics department to purchase the same gaming console.
Police said the second suspect tried to purchase the new PlayStation 4 using several counterfeit $50 bills while the other watched from customer service. The cashier sensed that something was wrong with the bills and call the manager over. That's when officers said the suspect grabbed the remaining fake bills and the PlayStation 4 left the store with his alleged accomplice trailing behind him.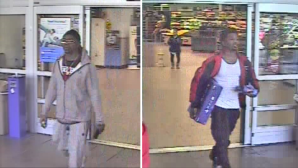 The sheriff's office said the suspects were buying gaming counsels with fake money and then later returning the devices for real cash.
Anyone with information regarding the suspects should call MCSO at 936-760-5800 or Crime Stoppers at 1-800-392-STOP (7867).