This is an archived article and the information in the article may be outdated. Please look at the time stamp on the story to see when it was last updated.
HARRIS COUNTY, Texas — A total bond of $60,000 has been set for two women and a man accused of climbing into a victim's car at a red light and then forcing the driver to withdraw money from several locations, the Harris County Constable's Office said.
On Tuesday, constable deputies responded to reports of a robbery in the 14500 block of Ella Boulevard and Kuykendahl Road.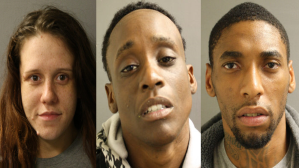 Investigators said the victim was stopped at the intersection when two women and a man jumped in to the complainant's vehicle. The trio forced the victim to drive to multiple locations and withdraw money from his bank account. After a while, the man was then forced to drive to a nearby apartment complex where he was released.
Following an investigation, constable deputies identified the suspects as Kristin Vanness, 23; Caprina Mosley, 29; and Jermaine Sellers, 26.
All three were arrested and charged with robbery. They're being held at the Harris County Jail where their bails are set at $20,000 each.