This is an archived article and the information in the article may be outdated. Please look at the time stamp on the story to see when it was last updated.
HOUSTON — The teen driver arrested after a double-fatal crash involving two racing vehicle is now facing felony charges, the Houston Police Department said. It's been confirmed the drivers and passengers were racing when the incident occurred.
The suspect, 14, has not been identified due to his minor status. He is charged with failure to stop and render aid, and racing causing death.
Emergency crews responded to the 3800 block of W. Fuqua Street near White Heather around 2 a.m.
Two teens (approx. age 14) died in a fatality roll over accident during an apparent race at 4000 W Fuqua. The other driver is detained (age 14). #hounews CC7

— Houston Police (@houstonpolice) April 25, 2018
Investigators said a Ford Expedition and Ford Explorer were speeding eastbound on Fuqua when the drivers lost control of their vehicle. The Explorer rolled over multiple times before striking a tree. The Expedition then crashed into a speed-limit sign.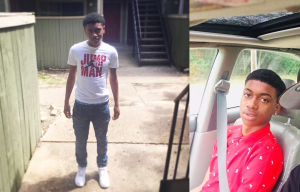 Both the passenger and driver — 14 and 15 years old — died at the scene, police said.
The incident was witnessed by police officers who were patrolling the area. The officers reported seeing the suspect jump out of his vehicle and run up to the crashed SUV to look at the occupants. He then reportedly ran back to his SUV and started to drive away  but was stopped by the officers and taken into custody.
The suspect has been booked into the Harris County Juvenile Probation Center.
"The deceased victims were teenagers, and then the driver of the other vehicle was also a teenager. Unfortunately, they should've been out at all because of curfew," HPD Lt. Larry Crowson said.
An investigation is ongoing.
The following images were taken at the scene: