This is an archived article and the information in the article may be outdated. Please look at the time stamp on the story to see when it was last updated.
HOUSTON — Proposal season is in full swing, and one Houston man decided to follow suit with an over-the-top presentation for his lady love.
Trevon Davis and his fraternity brothers created an expressive music video that left many viewers in tears, including his girlfriend of four years, Franchelle Hill.
Davis' smooth moves combined with the sensational song "Let's Chill" by Guy bombarded Hill with emotions.
"My initial reaction was just absolute shock and humor because I honestly could not believe that it was done," Hill told CW39. "But once the day was over, and I got to rewatch the video, I was overcome with emotions. He really put a lot of time and energy to make this project and just validated how lucky of a woman I am to have a man that loves and cares so much about little details."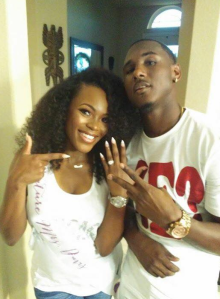 The video is undeniably made with love. Davis said his inspiration came from his girlfriend's love of music and his outstanding acting and dancing skills.
"I was watching my girlfriend cry watching all the engagements videos and she loves music, so I said for one; since I'm planning to propose, what are my options?I can't sing. I can't rap anymore, so how about I do a music video because I can dance and act," Davis said.
[protected-iframe id="4089a6ad14b09eb5667292190fd85844-40471470-112828576" info="https://www.facebook.com/plugins/video.php?href=https%3A%2F%2Fwww.facebook.com%2FNightfallMotionPictures%2Fvideos%2F2024207521140720%2F&show_text=0&width=560" width="560" height="315" frameborder="0" style="border:none;overflow:hidden" scrolling="no"]
A production of this magnitude took almost four months to perfect.  However,  imagining the smile on Hill's face took his stress away.
"It was never perfect to me, and I wanted it to be as perfect for her as possible! I worked extra jobs and accepted any money I could to make this come to reality. I would have to start unnecessary arguments with her just to leave to handle business. Plus, everyone that I knew would gives hints without knowing, so I would have to throw her off just to keep the surprise. I worked hard to make sure that every detail was noticeable," Davis said.
Davis was strategic in the filming process. He said he looked for locations that would tell the story of how the two of them made to the current point in their relationship. Now that the couple is officially engaged, he is excited to know that her life is guaranteed with him.
Although...Hill will have to wait at least two weeks before she starts planning the wedding.
"I told her please give me two weeks before you start planning 'cause I need a break. I wasn't sleeping or anything. But now that the proposal is over, all I can think about is what's the next romantic thing I can do for her," Davis said.
See the entire video here.