This is an archived article and the information in the article may be outdated. Please look at the time stamp on the story to see when it was last updated.
HOUSTON — The search continued Monday for three possible suspects who forever changed a southeast Houston father's life after the victim had both his legs amputated as a result of injuries endured during a vicious carjacking over the summer.
Samuel Bonilla, who has a 2-year-old son, was shot at least six times in the left side of his body while being mugged July 21 outside his home at the Green Arbor Apartment Homes on Sabo Road. Investigators said Bonilla's attackers were armed with both a .45 caliber and a 9mm gun.
Bonilla was parking his car at around 11:40 p.m. when an armed man approached him as he was stepping out of the vehicle. Police said the alleged robber fired his weapon without warning, hitting Bonilla, before being joined by two other suspects.
Investigators said the victim managed to get out of his car and tried to run away, but he collapsed a few feet away from the vehicle. That's when police said the trio stole Bonilla's wallet, car keys and cell phone. The men then jumped into the victim's dark gray 2018 Toyota Camry and drove off, officers said.
When emergency services arrived, Bonilla was rushed to the hospital and into surgery. Doctors were forced to remove both his legs as a result of the gunshot wounds.
According to police, the car was found hours later at about 4:20 a.m. inside Margaret Jenkins Park. The vehicle was completely burned and no evidence was found inside the vehicle, officers said.
Bonilla and the Houston Police Department held a press conference Monday to share the latest findings of the investigation, during which they released a composite sketch depicting one of the suspects.
While he is grateful to have survived the attack, Bonilla said he is faced with overwhelming hospital bills as he doesn't have sufficient medical insurance. Due to his injures, officials said he was forced to quit his job as a waiter.
Through tears, the young father also explained how he will never able to play with his child the same way ever again.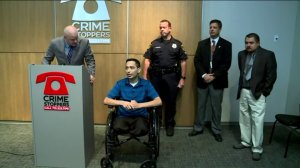 The first suspect is believed to be 6 feet 1 inches tall and weighing 180 to 210 pounds. He may be around 21 to 22 years old.
The second suspect is around 5 feet 5 inches tall and about 15 years old.
Police said the third suspect, who was armed with a gun, is of a similar height and weighs about 140 pounds. He is believed to be around 24 years old with dreadlocks.
Crimes Stoppers of Houston is offering an up to $5,000 reward for information leading to charges or an arrest in the aggravated robbery case. Anyone with information is asked to call 713-222-TIPS.