This is an archived article and the information in the article may be outdated. Please look at the time stamp on the story to see when it was last updated.
HOUSTON — The former president of the U.S. Hispanic Chamber of Commerce has filed a lawsuit claiming his former boss made false allegations against him in a plot to have him fired after he ended their extra-marital affair. The filing is a groundbreaking suit that proves the #MeToo movement isn't only about women, according to the complainant's lawyers.
"I made a mistake," Javier Palomarez said during a press conference Tuesday. "I allowed myself to get romantically involved with my superior at work. I had an affair with Nina Vaca-Humrichouse, the chairman of the U.S. Hispanic Chamber Foundation and my boss."
Palomarez is being represented by Chad Pinkerton and Andrew Cobos of the law firm of Bell, Rose & Cobos in the lawsuit filed against Nina Vaca and several U.S. Hispanic Chamber of Commerce Foundation board members and the chamber's former general counsel. BP America and CNN Contributor Maria Cardona are also listed as defendants.
Vaca's attorney Charla Aldous released the following statement in response to the lawsuit:
"This lawsuit has mischaracterized and manipulated the facts regarding the removal of Mr. Palomarez from his leadership role with the Chamber, and the nature of his relationship with Ms. Vaca. Mr. Palomarez is clearly seeking revenge and retribution, with little regard for the truth. It should be emphasized that it was the improper and unethical actions of Mr. Palomarez that directly led to his firing by the Chamber's Board of Directors.   We will respond to these claims through the judicial system. "
The former president is asking for a jury trial and damages of no less than $50 million in the lawsuit filed Friday at a Harris County district court.
"Nina Vaca used her power and her corporate buddies to try and destroy a good man, Javier Palomarez," Chad Pinkerton said. "When we are done, Vaca will become the poster child for sexual harassment against men, a woman who was so desperate for revenge she manufactured false allegations of sexual harassment and embezzlement to destroy her subordinate and former lover."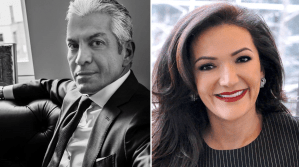 READ LAWSUIT: Plaintiff's Original Petition and RFD 1
The lawsuit claims Vaca retaliated against Palomarez after the breakup by making false allegations he committed embezzlement and sexual harassment. He was fired from his position at the U.S. Hispanic Chamber of Commerce in October 2017, and by February, the allegations had made national headlines.
However, the lawyers report the allegations have been proven false.
Vaca is CEO of the Dallas-based technology staffing firm Pinnacle Group and former chairman of the Hispanic Chamber's board for two years ending in 2012. She continued on the Chamber's foundation board until December when she was also fired, according to the lawsuit.