This is an archived article and the information in the article may be outdated. Please look at the time stamp on the story to see when it was last updated.
GALVESTON, Texas— The Galveston Police Department announced during a press conference Wednesday that an arrest has been made in the case of "Little Jacob," whose body was found on a Galveston beach almost eight months ago.
The police have identified the boy as Jayden Alexander Lopez.
"There was no family, no friends no outcry to claim this little boy," said Police Chief Vernon Hale.
After two months of searching for answers, the department released a sketch in hopes of identifying the child.
"Even with hundreds of tips coming in we made no progress," said Hale. "That's when we decided to release a crime scene photo.
Releasing the photo was very controversial, but after much debate, Hale said he decided to release it on Jan. 30.
Hale told reporters that the tips started to flood in once the photo was released and two of those tips led them to a little boy from Houston named Jayden.
"Because of the public involvement we followed up on new leads and found that this baby was under the care of his mother and her girlfriend at the time," said Hale.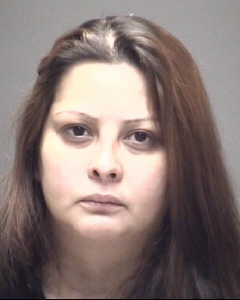 Investigators attempted to meet with Jayden's mother, Rebecca Rivera, and her girlfriend, Dania Amezquita Gomez, on Apr. 5, to determine if "Little Jacob" and Jayden were the same child. According to, Galveston County Sherriff's Lieutenant Tommy Hansen, when he arrived at the apartment Rivera would not open the door and fled the home through a second-floor bedroom window.
On Apr. 10, deputies received a tip that led them to another apartment where Rivera and Gomez were staying. This time Rivera spoke to Hansen and informed him that her son Jayden had been kidnapped. Gomez originally corroborated Rivera's story about the kidnapping, but later told FBI Agent Ricardo Martinez that Jayden had been missing for 6 months.
Due to the conflicting stories, the department conducted a DNA comparison between Rivera and the body of "Little Jacob" who was positively identified as 4-year-old Jayden Lopez.
Further investigation revealed that an Isuzu Rodeo truck matching the same license plates as the one owned by Rivera, was seen on camera exiting a Galveston toll booth on Oct. 19, 2017 at 4:35 p.m.
Investigators provided Gomez with the new details during a meeting at an ICE detention facility where she was being held on unrelated charges. During the meeting, Gomez confessed to Martinez that she arrived at an apartment on Bissonett after a night of drinking to meet with Rivera and Jayden was already dead.
According to court documents, during the interview, Gomez was very evasive with her answers and repeatedly advised investigators that she did not remember because she was drunk. When asked about Jayden's death she said that Rivera knows and didn't tell her.
Rivera confessed to officers on June 19, after a search warrant was issued for her arrest.
[Read confession here]
Approximately 2 weeks before Jayden's death he had bumped into a wall and caused an injury to his head. Rebecca advised that she used alcohol to clean the injury to Jayden's head. Rebecca advised that she and Dania then began to argue, which caused the alcohol to spill onto the floor and all over Jayden's face. Rebecca advised that after this Jayden's face began to swell up and that over the next two weeks Jayden's health deteriorated and that he would complain of stomach aches. Rebecca advised that over the course of the two weeks she could see that Jayden was becoming more lethargic. Rebecca advised that on the last day (date of Jayden's death) she could tell that it was the end and that Jayden had died.

Rebecca advised that they then went to sleep and woke up in the middle of the night. Rebecca advised that she then carried Jayden's body to her vehicle and that she, Dania, and her other child (3 YOA) then went to Galveston. Rebecca advised that she drove. Rebecca advised that she then put Jayden into the water because she had previously taken him to the beach and that he liked the water. Rebecca advised that during the two weeks when Jayden's heath was deteriorating, Dania was present. The Investigator asked Rebecca if she ever considered seeking medical help for Jayden and she advised that she didn't because she knew that they would take away Jayden and her other 3 year old son.

The Invetsigator confronted Rebecca about the injuries on Jayden's body. Rebecca advised that after Jayden had the head injury he acted different and became a problem. Rebecca advised that she and Dania would argue and that Dania would blame Jayden for the problems in their relationship. Rebecca advised that she was stressed out and took this out on Jayden by striking him with "whatever I could find." Rebecca advised that one item that she struck Jayden with was clothes hangers.
Gomez has been charged with tampering with or fabricating critical evidence. Her bond is set at $100,000.
Rivera is charged with tampering with physical evidence, which is a felony two offense. Her bond is set at $200,000.
Rivera's 3-year-old child was also at the home at the time of the arrest. He has been removed and placed with a third party, investigators said.