This is an archived article and the information in the article may be outdated. Please look at the time stamp on the story to see when it was last updated.
HOUSTON — Investigators are still trying to identify a young woman whose body was found in southwest Houston, authorities said.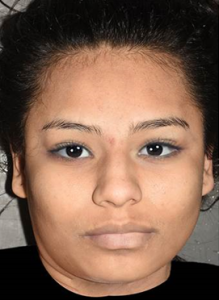 The National Center for Missing & Exploited Children said a passerby found the victim while walking along Sharpcrest Street on the morning of Feb. 16.
Police believe the woman was between 15 and 25 years old. She is 5 feet tall and weighs about 108 pounds. Investigators said she has long dark hair and pierced ears. She was wearing a gray short-sleeved shirt with a pink "Slope Bunny" embroidered emblem on the left chest. Police said she was wearing size 0 Regular jeans from Old Navy, purple ankle socks and white high-top Converse with red trim.
The victim was also wearing three silver rings, investigators said.
If you have any information that could lead to the identification of the victim, please contact the missing children's center at 1-800-THE-LOST or the Harris County Institute of Forensic Sciences at 713-796-9292 (after March 3 at 832-927-5000).