This is an archived article and the information in the article may be outdated. Please look at the time stamp on the story to see when it was last updated.
HARRIS COUNTY, Texas — The Harris County District's Attorney's Office has charged the wrong-way driver involved in a fatal head-on collision with a Heights High School coach and his wife, authorities said during a press conference Monday afternoon.
Gerardo Gonzalez Luna, 51, is facing intoxication manslaughter and intoxication assault charges.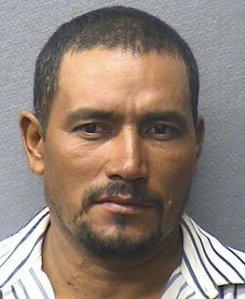 Investigators said several open containers were found in the suspect's vehicle including several opened Bud Light beer containers. Prosecutors said a toxicology report later revealed Luna was driving with a blood alcohol concentration of .284. That's well over three times the legal Texas limit of .08.
Officers said Adrian Byrd, 34, died at the scene after the suspect crashed into the victim's Mercedes Sunday around 1:30 a.m. while driving the wrong-way on W. Sam Houston Parkway South near South Street. Prosecutors said witnesses reported the suspect was driving without headlights when he hit the victim's car, pushing him into the path of a second pick-up truck.
Byrd was pinned down during the horrific accident, the Harris County Constable's Office said.
Veronnia Byrd, the victim's wife, was also a passenger in the car. She was taken to the hospital in critical condition, and remains in a coma.
Luna was also taken to the hospital, where he was treated for several injuries and remains in stable condition. He is expected to survive his injuries.
The driver of the second pick-up truck was not injured, prosecutors said.
The crash is still under investigation.
The victim's students and friends stormed social media Monday morning with condolences.
https://twitter.com/ItsOnlyManii/status/874034768496787456
Two of the biggest motivators I've met taken too soon💛🙏🏼😔Life is to dam short,but I pray that as yall fly high yall watch over us at Heights pic.twitter.com/wIGIsTfozO

— Rose ❄️ (@annggg18) June 12, 2017
#resteasycoachbyrd 5th period was great, fun times and we will never forget that , thank you Coach Byrd 💙🙏🏼

— shleee (@ashleyyopez) June 11, 2017