This is an archived article and the information in the article may be outdated. Please look at the time stamp on the story to see when it was last updated.
HOUSTON — Houston rapper Z-Ro is back on the streets Thursday morning following a domestic abuse charge filed against him by his ex-girlfriend, singer Just Brittany. The rapper posted his $50,000 bond Wednesday after going before a Harris County judge, court documents said.
The 40-year-old artist was hit with aggravated assault of a family member after the 28-year-old singer said he beat her extensively in April. The alleged abuse happened when Just Brittany went to Z-Ro's Katy-area home to discuss canceled dinner plans, the Houston Chronicle reported.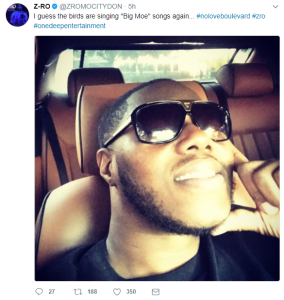 Z-Ro allegedly brandished a pistol while slapping, punching and dragging the singer during an attack that lasted almost two hours. Investigators said Just Brittany claims the assault made her vomit, forcing her to go to the restroom, where she started to record a 20-minute long audio clip. The alleged assault continued once she left the restroom, a police report said.
The songstress didn't file charges against Z-Ro until Monday— almost four months later. Just Brittany showed Harris County deputies the recording, launching an investigation and leading to Z-Ro's arrest on Wednesday.
So far, both artists have remained silent about the dispute while the Harris County Sheriff's Office continues its investigation.
The artists just released a collaborative track and music video for their song "Mama Should've told Me" in December 2016.
Currently, Just Brittany is a contestant on the competitive reality television show SIGNED on VH1, which premiered Wednesday night. On the show, music moguls Lenny S, Rick Ross and The-Dream search for the newest rapper to be signed to their individual record labels.
Meanwhile, Z-Ro just released his latest album, 'No Love Boulevard,' in June. The artist told numerous music publications that it will be his last musical release, marking the end of his 20-year run as a successful solo artist.
The case has raised the eyebrows — and fists — of some fans on both sides. Z-Ro and Just Brittany followers hit social media to express their opinions on the matter.




Before heading into court for a second time on Thursday, Z-Ro sent out a dismissive comment about the case.
In other news… if you haven't got my last album, "No Love Boulevard" here's your chance… Hit the link in my twitter bio now!

— Z-RO (@ZROMOCITYDON) July 27, 2017
Just Brittany has hired attorney Ben Hall to represent her. Her team released the following statement:
"No man should ever put his hands on a woman. And, it is not proper to remain silent after being abused.

"Just Brittany does not intend to litigate this matter in the media nor on social media. She has retained legal counsel to represent her interest, and has made no attempt to contact either the media about this matter nor anyone involved in causing her injuries. Any further comments about this matter should be directed to the attention of her counsel."

Just Brittany is represented by:

Benjamin L. Hall, III, Ph.D., J.D.,
The Hall Law Firm
Despite fans' suspicions surrounding the case, the CW39 Houston takes all allegations of domestic abuse seriously.
Our station encourages anyone who may be in an abusive relationship to call the Houston Area Women's Center domestic violence hotline at 713-528-2121 or The National Domestic Violence Hotline at 1-800-799-7233 for help.