This is an archived article and the information in the article may be outdated. Please look at the time stamp on the story to see when it was last updated.
TENNESSEE – A 9-year-old girl allegedly taken from school by an uncle with no custodial rights may be "in imminent danger," Tennessee Bureau of Investigation spokesman Josh DeVine said Tuesday.
Authorities have received no credible sightings of Carlie Marie Trent, Gary Simpson or the vehicle Simpson was driving, DeVine said at a news conference.
Simpson is an uncle by marriage to Carlie, whom he allegedly removed from school last Wednesday under false pretenses, a TBI news release said.
Investigators know Simpson bought clothing and camping items, so it's possible they're in the woods or at a campground, DeVine said.
"There's every indication that he intended to go out of sight," DeVine said. "We believe this girl is in imminent danger."
A kidnapping warrant has been issued for Simpson, 57, the TBI said. An Amber Alert was issue Thursday for Carlie in middle and east Tennessee on behalf of the Rogersville Police Department.
On Tuesday, DeVine described items Simpson bought at a Walmart before the incident: the list included things apparently for Carlie, such as child-sized khaki pants, a nightgown, a bikini, underwear, lipstick, nail polish and a child-sized camp chair.
Simpson also bought a T-shirt and black pants for himself, DeVine said.
'Deep down evil'
Trent's father wrote on Facebook that "No one saw this coming, anyone who knows me knows I'm very protective so this is shocking to say the least."
James Trent greeted Simpson Wednesday morning as he left to go to work, and didn't recall anything out of the ordinary.  "I had no idea what he had planned in his mind for later that day," Trent told Inside Edition.
Trent believes his brother-in-law had developed an "obsession" with his daughter.
"There's a reason he chose her and not my other daughter," Trent said.  "He had access to both of them every single day.  She would've gone with Gary, too.  She trusted him."
Trent says the alleged abduction still feels "unreal."  He wrote on Facebook that Simpson must have "a deep down evil inside him" to be capable of taking his daughter.
Tips not panning out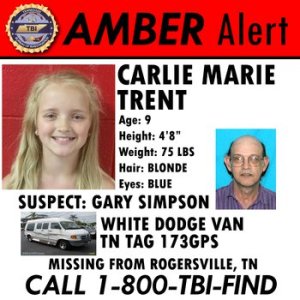 Carlie is white, 4 feet 8 inches tall, weighs 75 pounds and has blonde hair and blue eyes. She was last seen wearing a black and gray tank top and blue jeans.
Simpson is a white male, 5 feet 10 inches tall and weighs 157 pounds. He is balding and has brown hair and eyes.
He was last seen wearing a brown cap, a dark-colored shirt and jeans and driving a white 2002 Dodge conversion van with Tennessee registration 173GPS. The van has a dark stripe down the middle with light gold running boards and paint chipping off of the hood.
Authorities have received over 500 tips so far, none of which have panned out, DeVine said.
But authorities believe they just need one to break open the case.
"We really believe in the power of one tip to completely turn this entire story around," he said.
Message to Simpson
DeVine also issued a plea to Simpson on behalf of authorities and Trent's family.
"Your family is eager to hear from you, and your family is eager and anxious to have Carlie home. We would encourage you, Gary, to do the right thing and bring Carlie home," DeVine said. "There is nothing that you've done that can't be fixed."
The U.S. Marshals have increased their reward to $5,000 for information leading to Trent's safe recovery and Simpson's arrest.
Trent's pediatrician has also offered a $10,000 reward.
Authorities say anybody with information should contact the Rogersville Police Department at 423-272-7555 or TBI at 1-800-TBI-FIND.