This is an archived article and the information in the article may be outdated. Please look at the time stamp on the story to see when it was last updated.
HOUSTON — "El presidente Trump is a bad, bad hombre."
That's the message from local advocacy groups following President Trump's controversial decision to end the Deferred Action for Childhood Arrivals Program, or DACA.
The Greater Houston Coalition for Justice says the president's choice to eliminate DACA is inhumane. "We in LULAC feel that this decision was heartless, cruel and unusual punishment for the more than 800,000 young people that qualify for DACA," said Augustin Pinedo, President of the Greater Houston League of United Latin American Citizens. "A lot of them have made something of themselves. They're teachers, they may be lawyers, they may be nurses, may be doctors. These people are poised to help this country in many and diverse ways."
Oscar Hernandez, a DACA recipient himself, criticized the president for choosing to end the program while simultaneously passing the buck to Congress to deal with it. "He is hiding behind Congress saying they should find a Congressional solution for DACA when it ends up being an executive action based on a precedent," said Hernandez.
Congress now has 6 months to legalize DACA (something the Obama Administration was unable to do). If they can't, I will revisit this issue!

— Donald J. Trump (@realDonaldTrump) September 6, 2017
President Trump says he's willing to revisit DACA if Congress does not come up with a solution, but by then it could be too late to avoid some of the worst effects of not having the policy in place.
Eliminating DACA is bad for business
If Congress chooses to do nothing to save DACA it would prove costly not only to the families of those enrolled in the program, but American businesses and the economies of both Texas and the U.S. as well.
The Center for American Progress says there are nearly 800,000 DACA recipients living in the U.S. right now. Estimates show that around 87 percent of them are employed, meaning around 685,000 employees would be at risk of being deported or losing their ability to legally work in the United States. Overall, the Center for American Progress says the elimination of DACA would reduce the U.S. Gross Domestic Product by $460 billion over the next ten years.
Texas is home to 124,300 DACA recipients and 108,141 of them are employed. Removing DACA employees from Texas companies would translate to a more than $6.25 billion drop in the state's GDP. That would be the second-largest impact in the country behind only California, which has nearly twice as many DACA recipients living within its borders.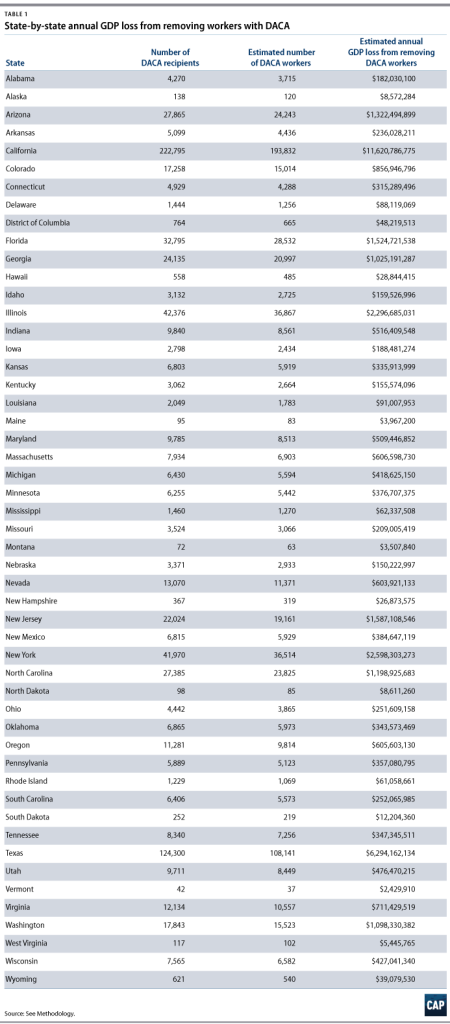 Meanwhile, the CARO Institute says businesses that employ DACA recipients would have to make a substantial investment in new employees. It estimates it would cost around $6.3 billion to recruit, hire, and train new employees to replace those who would no longer be able to work legally in the United States.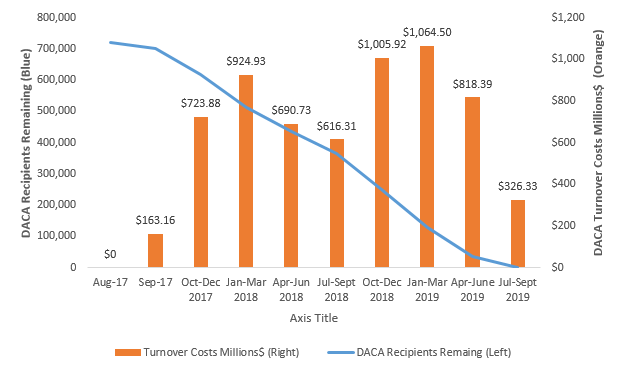 Stay connected! Download the CW39 NewsFix app for iOS or Android devices and the CW39 Weather app for iOS or Android devices.