This is an archived article and the information in the article may be outdated. Please look at the time stamp on the story to see when it was last updated.
MIAMI — A Miami Beach area swimmer has been bitten by what is thought to be a bull shark, a Miami-Dade Fire Rescue spokeswoman said.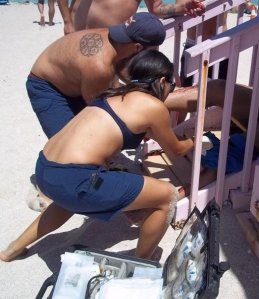 The Florida beachgoer, who was not named, was in the process of exiting the waters after warnings from lifeguards to evacuate the water at Haulover Beach, which is about 8 miles (12 kilometers) north of Miami Beach.
"Miami-Dade Fire Rescue Ocean Rescue lifeguards became aware of the shark lurking in the water," Miami-Dade Fire Rescue spokeswoman Erika Benitez said.
"Immediately, the lifeguards alerted people in the water by blowing their whistles, and gesturing for everyone to get out of the water."
The swimmer was bitten in the lower extremities by the shark, thought to be a 4- to 5-foot long bull shark, she said, but managed to get out of the water. Lifeguards rendered aid.
"The patient was transported by ground to a local hospital, (and their) injuries did not appear to be life-threatening," Benitez said.
Miami-Dade Fire Rescue lifeguard Matt Sparling said, "In my 20 years as a lifeguard, this is the first time a person has been bitten here at Haulover Beach, and possibly the first for Miami-Dade County."
"Although these incidents are rare, we still ask beachgoers to always be aware of their surroundings. Always swim near manned lifeguard towers and be sure to always heed all warnings issued by lifeguards."