NewsFix top picks: Read what's trending around the world and online.
This is an archived article and the information in the article may be outdated. Please look at the time stamp on the story to see when it was last updated.
GRIFFITH, Ind. -In Indiana a business owner faces felony charges after a customer found cocaine in her cheese stick order.
Surveillance video released by police shows the owner of Broad Street Gyros, Carrie Demoff, walk into a back office, according to WGN. A couple of minutes later, she leaves.
The video then cuts to her in the kitchen with a white container.
Police say the object inside tested positive for cocaine.
And now check out this pizza joint in Massachusetts.
Police say a man wearing a mask and carrying what turned out to be a fake gun walked into Northeast Pizza in Barre on Tuesday, according to CNN affiliate WCVB.
Surveillance video shows the man climbing over the counter and forcing one of the workers to help him open the register. Employees wrestled him to the floor and held him there until police arrived. When police arrived and took off the intruder's mask, employees recognized the would-be robber as a former manager who was fired last summer, according to the station.
Speaking of food related drama. Do you think dog food should be paid for by the government?
Well apparently a lot of other people do too.
Nearly 120,000 people across the country have signed a petition to make dog and cat food eligible for food stamps.
"We go through a 40-pound bag (of dog food) a month," said Booth.
The cost of a 40-pound bag of dog food a month can add up. Booth is able afford it, but it could create a hardship for someone are struggling.
That's why he wouldn't have a problem with someone receiving food stamps to use some of it to buy pet food.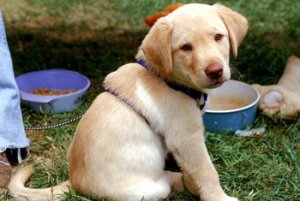 Watch NewsFix at 5 p.m. for more