This is an archived article and the information in the article may be outdated. Please look at the time stamp on the story to see when it was last updated.
HOUSTON—  In the recent weeks, messages of anti-Semitism have been sweeping across the country.
"We're certainly very concerned about what appears to be a rise in antisemitism, but not just anti-Semitism, in hate in general," Dena Marks, the associate director of the Anti-Defamation League's Southwest Regional Office, said.
Swastikas in Brooklyn subways, bomb threats and Jewish gravestones being overturned are just a few of the threats that have occurred. After more than 100 headstones were desecrated at a historic Jewish cemetery in St. Louis, people like Hillary Clinton and Ivanka Trump tweeted their disgust.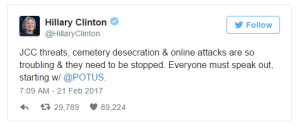 The threats hit home Monday after the Houston Jewish Community Center in Meyerland received a bomb threat.
President Trump finally spoke out against the hateful acts on Tuesday, "I will tell you that antisemitism is horrible, and it's gonna stop, and it has to stop," Trump said.
The DOJ is investigating dozens of threats as possible civil rights violations, in states like Alabama, Ohio, Florida, New Mexico and Tennessee. It seems no state is safe from the hate.