This is an archived article and the information in the article may be outdated. Please look at the time stamp on the story to see when it was last updated.
PALM BEACH GARDENS, Florida — Surveillance video showed tennis star Venus Williams was driving "lawfully" as she entered an intersection where a fatal accident involving her SUV occurred, police in Palm Beach Gardens, Florida, said Friday.
Police said the video was obtained from a residential community near the intersection after they started investigating the June 9 collision. The statement does not state who was at fault in the wreck that injured Jerome Barson, 78, who later died, and badly injured his wife, Linda.
"It has been determined the vehicle driven by Venus Williams lawfully entered the intersection on a circular green traffic signal, and attempted to travel north through the intersection to Ballenisles Drive," police said in a statement.
Williams came to a stop as she traveled through the intersection because another car made a left turn in front of her, the statement said. She then continued north, in accordance with state law, the statement said.
"The vehicle driven by Linda Barson was traveling west on Northlake Blvd, in the outside lane, approaching a steady red traffic signal," the statement said. "The traffic signal then cycled to green, at which time Barson continued westbound and entered the intersection. The front end of Barson's vehicle collided with the right front of William's (sic) vehicle."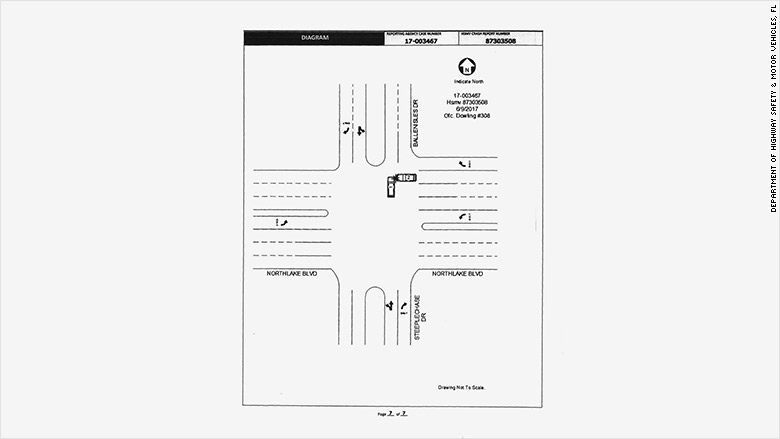 A police accident report issued earlier said Williams was "at fault for violating the right of way" of the oncoming car. No criminal charges have been filed.
Jerome Barson died June 22 in a hospital. The Barson family filed a wrongful death lawsuit against Williams, citing negligence.
Meanwhile, a judge has granted an emergency motion that will allow Williams' SUV to be searched in connection with the crash.
"They are pleased the evidence will be properly examined and preserved and it will prove that Miss Williams is at fault," said Gary Iscoe, an attorney for the Barson family.
CNN Sports obtained a statement from Malcolm Cunningham, an attorney for Williams, on why an emergency protective order was requested:
"The vehicles involved in the accident are believed to contain critical information within their computer systems. It is important that the information be preserved so that it is available to both parties for examination to understand how the accident occurred. The motion for protective order ensures both parties have sufficient opportunity for their legal teams to prepare for an inspection and to establish a protocol that will govern the inspection which will ensure extraction of critical information by both parties in a way that preserves the evidence."
Williams, who just turned 37, is a seven-time Grand Slam champion. She's in London playing at Wimbledon, which she has won five times, the last time in 2008. Her next scheduled match is Monday, in the round of 16.
Williams broke down in tears at Wimbledon when reporters questioned her about the wreck.
"There are really no words to describe, like, how devastating and — yeah. I'm completely speechless. It's just …" Williams said.