This is an archived article and the information in the article may be outdated. Please look at the time stamp on the story to see when it was last updated.
LOS ANGELES — Following weeks of women protesting movie producer Harvey Weinstein for his sexual exploits in Hollywood, famous  rapper The  Game took to Instagram Thursday to deny rumors that he has conceived a love child with a 15-year-old from the United Kingdom.
The post read, "Not here to entertain lies or felonious stories. Laughing at how lame some people are. Stalking others lives, fabricating stories to look like fools in the end. & here I sit……. Focused on my soul, my craft & my children.
https://www.instagram.com/p/BacMWCvFKnS/
Fameolous Daily broke the story and claims to have spoken to the pregnant teen. The article suggests The Game did not know that she was 15 years old because the club where they met required an 18 or older ID.
https://twitter.com/fameolousent/status/921086744585318400
The Game has been in the hot seat before for similar allegations, which makes the recent claims seem plausible. In August of 2017, The Game was outed by a 16-year-old Instagram model and Youtube vlogger named Kenza.
The model posted a screenshot of her Instagram messages, which showed The Game messaged her a black heart.  She also claimed he asked for her number.  Fans of the rapper pointed out that the teen's bio stated she was 16 while others attacked the teen for her provocative posts.
The Game came under fire prior to the Kenza incident back in 2015 when he was caught in the park fondling Instagram model India Love, who was 19 years old at the time. Love claimed that their relationship started when she was 17, but later retracted the statement.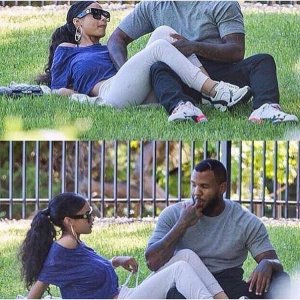 Social media has not been as forgiving this time around.
Every other week The Game has been caught in an adolescents DM's.. At this point, these occurrences aren't accidents, they're preferences.

— (Kah•Me) (@lekurokami) October 19, 2017

https://twitter.com/moeshamitchel/status/921005991801450496
My reaction when i heard The Game got a 15 yr old pregnant pic.twitter.com/OICxW3xWTl

— Mr.Gemini♊ (@RonnieThaGreat) October 19, 2017

https://twitter.com/Akhdre_/status/921028428572364800