This is an archived article and the information in the article may be outdated. Please look at the time stamp on the story to see when it was last updated.
HOUSTON—The coffee giant Starbucks has announced a new addition to its menu and social media is giving it rave reviews.
For the first time in 43 years coffee drinkers will be able to order a light roast at Starbucks. The new Blonde Espresso boasts a more mellow version of the original Espresso.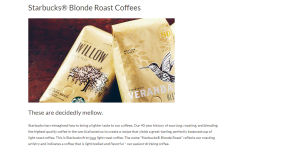 A statement on the company's website reads "Starbucks has reimagined how to bring a lighter taste to our coffees. … This is Starbucks first true light roast coffee. The name "Starbucks® Blonde Roast" reflects our roasting artistry and indicates a coffee that is light bodied and flavorful – our easiest-drinking coffee."
Tall, Blonde and Gorgeous. ✨✨#blondeespresso ✨✨ pic.twitter.com/Wi0RHnrPc7

— KristinBentz (@KristinBentz) January 9, 2018
The new line offers five new drinks including, the Ice Blonde Americano, Blonde Flat White, Blonde Espresso, Blonde Cappuccino and the Blonde Latte Macchiato.
Say 👋 to new subtly sweet Starbucks #BlondeEspresso. Now serving. pic.twitter.com/O1Y4GJ8QXa

— Starbucks Coffee (@Starbucks) January 9, 2018
The Blonde Espresso is only the second Espresso to be offered by the popular coffee chain in over 43 years, and according to social media it was well worth the wait.
When you purposely make a trip to @Starbucks just to try the new #BlondeEspresso 😉 (for the record, it's delightful 😍) pic.twitter.com/XfqQx4QklG

— Allyson Yates (@rock_sister) January 9, 2018
Had to test this new #BlondeEspresso. Seriously smooth, people. Three 👍🏽👍🏽👍🏽 pic.twitter.com/emAKtRnSp5

— Bridget Johnson (@itsmeBridget) January 9, 2018
For years haters complained that Starbucks espresso has a "burnt taste." #BlondeEspresso addresses that by being not roasted as long (tastes better, higher caffeine buzz). Haters still hatin', and I'm sure without trying it.

— Jeffrey Scott Holland (@catclawtheatre) January 9, 2018
https://twitter.com/AlexOfOz_88/status/950692446723244032
https://twitter.com/Sbux20083/status/950377960808370177