This is an archived article and the information in the article may be outdated. Please look at the time stamp on the story to see when it was last updated.
MOUNT PLEASANT, Michigan -- A local university is investigating a possible hazing incident in which a member of an off-campus fraternity smeared peanut butter on a student with a peanut allergy, according to the student's mother.
The Detroit Free Press reports the incident happened in October, but Teresa Seely said her son didn't tell anyone until Tuesday night.
"He could have been killed," Teresa Seely, the mother of Andrew Seely, wrote in a Facebook post Wednesday.
Seely wrote her son was sent to the campus health clinic by a professor and treated. The family has notified campus police, Central Michigan University, and an attorney.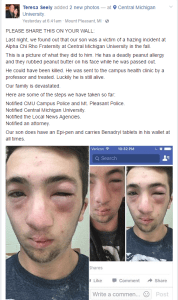 The Free Press reports Andrew Seely is no longer a student at CMU.