This is an archived article and the information in the article may be outdated. Please look at the time stamp on the story to see when it was last updated.
TROPHY CLUB, Texas — A Texas middle school teacher accused of having sex multiple times with a 15-year-old male student is pregnant, KDAF reported.
Katherine Ruth Harper, 27, a seventh-grade teacher and cheerleader coach at Tidwell Middle School, was arrested after a three-month investigation of the sexual allegations.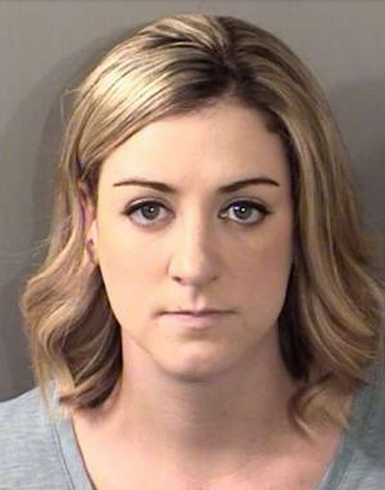 Northwest school district officials received an anonymous tip in December that she was having a relationship with a former student who now attends Byron Nelson High School. Harper was also the boy's tennis instructor for a time, according to an affidavit.
Harper and the student had been sending flirty text messages to each other that led to them meeting in her Fort Worth home or his home in affluent Trophy Club over the summer, the document says.  The two also allegedly exchanged nude photos of each other. Police have seized the teen's phone.
Based on cellphone records, the two communicated with each other 76 times from June 1 to July 31.
The teen told a Child Protective Services investigator that on at least one occasion he drank alcohol with Harper and they took their clothes off, according to the Star-Telegram.  The boy also said he then performed a sex act on his former teacher, according to the affidavit.
When Byron Nelson school officials asked the teen about the alleged relationship, he began crying and admitted to it, the affidavit says.
"One thing led to another and she told me to 'put it in' and I did," the teen said according to the document.
Harper, who has been on administrative leave, is eight months pregnant, according to KDFW, but the affidavit doesn't specify who the father is.
Harper is facing a charge of an improper relationship between an educator and student, a second-degree felony.