This is an archived article and the information in the article may be outdated. Please look at the time stamp on the story to see when it was last updated.
HOUSTON — A man charged after a deceased woman was found in a recycling bin at his southwest Houston home appeared before a Harris County judge early Thursday.
Alex Jude Akpan, 24, was originally charged with tampering with evidence, but the offense was quickly upgraded to capital murder as the investigation continued.
In court, his bond was set to $250,000.
The Harris County Sheriff's Office responded to a residence Sept. 5 in the 9600 block of Wellsworth Drive after receiving a call from the suspect's mother. The mother and son are the only ones with keys to the house, prosecutors said.
Investigators said the woman went to her son's bedroom to see if he was home and noticed the suspicious container with the lid closed. The recycling bin is normally in the backyard. She decided to open it and found a woman's foot. When she tipped the bin over, the entire body was exposed.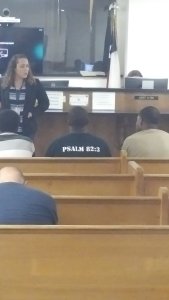 She quickly called her ex-husband over. The victim was unresponsive the couple tried to perform CPR while reaching out to 911. When first responders arrived, the victim was pronounced dead.
The mother called Akpan who was already on his way to the house. He told his mother over the phone that he knew what had happened to the victim, according to court documents. However, when the suspect arrived, he refused to give investigators a statement and requested a lawyer.
Several days later, on Sept. 11, the victim was identified as  Abiola Yemitan, 23. She had died of strangulation, according to medical examiners.
Yemitan had only known Akpan for a couple days after meeting him at the West Oak Mall. Investigators confirmed the two had quickly become friends based on a witness statement and several calls and message found on their cellphones.  Yemitan had also reportedly been to Akpan's house on multiple occasions.
According one witness, she and Yemitan agreed to meet Akpan at his house hours before her death. When they arrived, Yemitan parked along the street and angered the suspect, prosecutors said.
The witness claims Akpan became irate, screaming, cursing and even throwing a chair. She quickly become  uncomfortable and decided to leave, but Yemitan wanted to stay. Investigators said when the witness last spoke with Yemitan, she was still at the suspect's house.
It's the last time she was heard from.
The investigation continues.