This is an archived article and the information in the article may be outdated. Please look at the time stamp on the story to see when it was last updated.
HOUSTON — Autopsy results confirmed Wednesday share new details about the death of a renowned cardiologist murdered while riding his bike to work last week in the Texas Medical Center. Meanwhile, a manhunt continues for the doctor's alleged killer.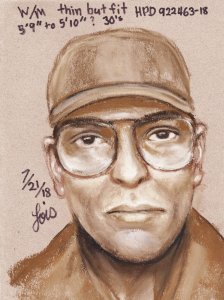 Houston police are still searching for the armed cyclist accused of fatally shooting Dr. Mark Hausknecht, 65, as the men rode northbound on Main Street near Holcomb Boulevard about 8:50 a.m. on July 20. Investigators said the alleged gunman rode closely behind the victim before firing at least twice, hitting Hausknecht, and then riding off into a nearby residential area.
The victim was rushed to Ben Taub General Hospital, where he passed away in the emergency room. The Harris County Medical Examiner's Office said Hausknecht died from gunshot wounds to the head, torso and upper left arm.
Earlier in the week, homicide detectives released several images of the suspect including a composite sketch and surveillance snapshots.
Police said the suspect is a man in his 30s, about 5-foot-10 and has a slender build. He was wearing a gray warm-up jacket with khaki shorts, a tan baseball cap and glasses at the time. He's also clean shaven. The suspect was riding a light-colored mountain bike, police said.
UPDATE #4 New surveillance photo of the suspect wanted in the killing of Dr. Hausknecht. Suspect is now described as wearing a blue, short sleeved polo shirt, (not a gray warm-up suit), a khaki ball cap and khaki shorts. He has a large, fully-loaded, olive green backpack. pic.twitter.com/VRk66CFeXb

— Houston Police (@houstonpolice) July 23, 2018
Hausknecht was specialist at the DeBakey Heart & Vascular Center. He was a longtime Houston Methodist-affiliated physician with nearly four decades of medical experience, hospital officials said. News of his death prompted heartfelt responses from the medical community, other local hospitals and former U.S. President George H.W. Bush.
Bush was a former patient of Hausknecht.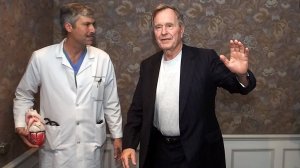 "We owe it to future generations to leave a safer environment," the doctor's wife, Georgia Hsieh, said in a statement released to CNN. "Mark loved this city. To honor him — work hard, be responsible, patient, tolerant and compassionate."
Hsieh said her husband dedicated his life to saving and prolonging the lives of others. A practitioner of emergency medicine, the wife said she has seen firsthand what guns can do. However, she never imagined someone she loved become a victim of gun violence.
Anyone with information should call Crime Stoppers of Houston at 713-222-TIPS (8477) or the Houston Police Department homicide division directly at 713-308-3600.