This is an archived article and the information in the article may be outdated. Please look at the time stamp on the story to see when it was last updated.
GRAND PRAIRIE, Texas (KDAF) — An escaped inmate is back in jail after leading Dallas authorities on a hunt for him — and his accomplice is there now, too.
The Dallas County Sheriff's Office said Daniel Brown, 28, was captured Sunday evening at a Motel 6 in Grand Prairie. He was with 28-year-old Dieasha Owens, a woman police believe helped him get free from the Dallas County Jail's Suzanne Kays Detention Facility, where he was imprisoned on multiple theft charges.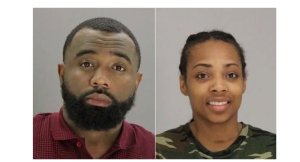 Brown was discovered missing Sunday morning during an inmate count. He was assigned to work in a kitchen area at the jail; detectives are reviewing security video and believe he may have escaped through a dock area.
Brown is now being charged with escape. He was being held in the jail after a March 2018 arrest on five charges of property theft.
Owens was also arrested at the motel and was booked into the Dallas County Jail Sunday evening with a $5,000 bond, facing a charge of facilitating escape of a correctional facility.