This is an archived article and the information in the article may be outdated. Please look at the time stamp on the story to see when it was last updated.
HOUSTON -- Investigators could be one step closer to identifying a deceased special needs child after the National Center for Missing and Exploited Children released computer renderings of the victim to the public on Wednesday.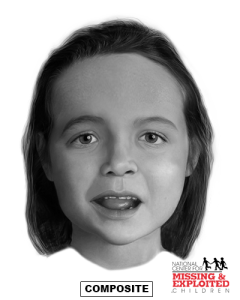 The girl's remains were found in a black suitcase Sept. 17, 2016 near the 7800 block of I-45 north in Madisonville, Texas. The medical examiner believes the child was between 2 and 6 years of age. The dark-haired child's race is indistinguishable, but she may be white or Hispanic.
She was found wearing a pink dress and a diaper. She also had a feeding tube.
Investigators suspect she suffered from micrognathia, which would have affected her ability to eat on her own. Examiners suspect she would have likely needed professional medical care throughout her life.
While she was found in Texas, a pollen analysis completed on her remains suggests she was from the southwest U.S. or the adjacent region in Mexico. It's even more likely she was from southeast Arizona.
Using a CT scan of her skull, forensic artists at NCMEC created the facial reconstruction.
NCMEC is asking anyone with information to call its 24/7 hotline: 1-800-THE-LOST (1-800-843-5678).