This is an archived article and the information in the article may be outdated. Please look at the time stamp on the story to see when it was last updated.
HARRIS COUNTY, Texas — The Harris County Constable's Office has arrested two men accused of impersonating police officers at a motel Monday in the north Houston area, according to investigators.
Constable deputies responded to a robbery call at the North Villa Motel in the 16500 block of the North Freeway.  Investigators said a group of men were banging on doors and identifying themselves as Houston police officers.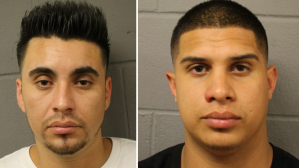 The suspects were later identified as Noe Arugeta, 31, and Douglas Aguilar, 28.
Deputies are continuing to investigate if Argueta and Aguilar may have used these same tactics on other victims in the area.
Both men were charged with impersonating a peace officer and booked into the Harris County Jail.
Argueta was given a $5,000 bond and Agular received no bond.