This is an archived article and the information in the article may be outdated. Please look at the time stamp on the story to see when it was last updated.
23-year-old shooting suspect wanted for aggravated assault
HARRIS COUNTY, Texas — A 42-year-old has died after a man fired multiple shots at her vehicle while the victim's daughter and four grandchildren were inside Thursday morning. The Harris County Pct. 4 Constable's Office is now searching for the woman's alleged shooter.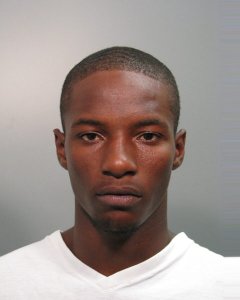 A warrant has been issued for the arrest of James Johnson, 23, who is charged with aggravated assault with serious bodily injury.
Investigators said the suspect had an argument with the victim's 22-year-old daughter and her brother around 8:30 p.m. Wednesday. During the argument, Johnson reportedly pulled out a pistol and pointed at the daughter.
A few minutes after midnight — while officers were filing aggravated assault charges against Johnson — constable deputies were called to the La Esencia Apartments in north Houston where the suspect had allegedly fired multiple shots at the grandmother and her family as they drove off.
The daughter and grandchildren were unharmed. Meanwhile, the grandmother was taken to Houston Northwest Hospital where she later died.
The relationship between the suspect and the victim's family has not been released.
Anyone with information on Johnson's whereabouts should call the HCSO Violent Crime Unit at 713-274-9210.
Crime Stoppers will pay up to $5,000 for information leading to the charging and/or arrest of the suspect in this case. Information may be reported by calling 713-222-TIPS (8477) or submitted online at www.crime-stoppers.org. Tips may also be sent via a text message by texting the following: TIP610 plus the information to CRIMES (274637). All tipsters remain anonymous.