This is an archived article and the information in the article may be outdated. Please look at the time stamp on the story to see when it was last updated.
HOUSTON — It's possible the man accused of fatally shooting renowned cardiologist Dr. Mark Hausknecht was acting on a grudge held for more than 20 years, HPD Chief Art Acevedo said during a press conference Wednesday.
Joseph James Pappas, 65, is charged with capital murder. He remains at large and is armed with several weapons, police said.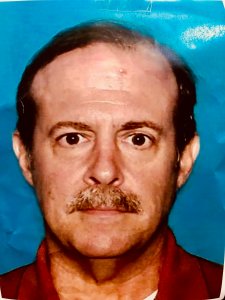 The suspect's mother was a patient of Hausknecht who died during surgery decades ago, according to the Houston Police Department. Based on communications with Pappas' acquaintances, detectives said the suspect may be highly suicidal.
"There was a text that he sent to someone that said he was going to kill himself," Acevedo said. "Concerned for the suspect's well fare, and knowing he had indicated that he was going to kill himself, officers with the Houston Police Department conducted a well fare check on his home at 9 p.m. [Tuesday]."
The following morning, the Harris County District's Attorney's Office issued a murder warrant for Pappas' arrest.  Acevedo said officers found evidence connecting the suspect to Hausknecht's death while searching his home, but Pappas was no where to be found.
"He's considered to be armed and dangerous, and people should not try to deal with him directly," the police chief said.
Pappas has more than 30 years' experience in law enforcement through the Harris County Constable's Office from 1983 to 2013, according to employment records. He had reportedly served as a peace officers — and for some periods a reserve officer — for Precinct 2 and Precinct 7 during that time.
Anyone with information should call Crime Stoppers of Houston at 713-222-TIPS (8477) or the Houston Police Department homicide division directly at 713-308-3600.
It's been nearly two weeks since Hausknecht was gunned down while riding his bike to work in the Texas Medical Center. Investigators said the alleged gunman rode closely behind the victim before firing at least three times, hitting Hausknecht, and then riding off into a nearby residential area. The victim was rushed to Ben Taub General Hospital with fatal gunshot wounds to the head, torso and upper left arm.
On Monday, homicide detectives shared surveillance video and other photos of the alleged shooter. Shortly afterwards, police received several tips leading them to Pappas. Investigators later learned through interviews that Pappas hadn't been heard from by the people who know him for more than a day.
Hausknecht was a specialist at the DeBakey Heart & Vascular Center. He was a longtime Houston Methodist-affiliated physician with nearly four decades of medical experience, hospital officials said. News of his death made national headlines and prompted heartfelt responses from the medical community, other local hospitals and former U.S. President George H.W. Bush, the doctor's former patient.
Following the announcement of an identified suspect,  Mayor Sylvester Turner released a statement that read in part:
"The Houston Police Department's identification of a suspect in the shooting death of Dr. Mark Hausknecht is more proof of the excellent results that come from HPD's top notch investigators working with information provided by the public, from prominent cases to those that escape widespread attention.

"While each homicide is a tragedy for our community, I am thankful that last year's Houston homicide count fell to a three-year low and that Chief Acevedo and his staff are using preventive approaches designed to reduce the count even further.

"Let us keep the family of Dr. Hausknecht in our prayers as they begin the long road to healing."
UPDATE #8: Chief @ArtAcevedo & Homicide investigators will provide an update on this case to media at 2 p.m. TODAY at HPD Headquarters.
We will also carry the briefing live here via Periscope. No details will be released prior to the media briefing. #hounews

— Houston Police (@houstonpolice) August 1, 2018