This is an archived article and the information in the article may be outdated. Please look at the time stamp on the story to see when it was last updated.
HOUSTON — JJ Watt and Jose Altuve have been named Sports Illustrated's 2017 Sportsperson of the Year, the publication announced Monday. The players are being recognized for their contributions both on and off the field.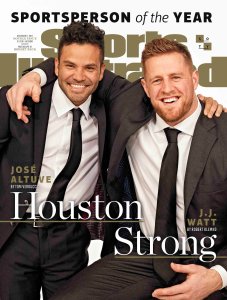 Watt raised more than $37 million in Hurricane Harvey relief aid and served as a beacon for what an athlete can do with their platform beyond sports.  Watt is the seventh NFL athlete to be named Sportsperson of the Year, joining the likes of Tom Brady, Peyton Manning and Joe Montana.
"All I did was give people a way to help," Watt told SI. "If I'm going to get an award, I feel like over 200,000 other people should, too."
Altuve, the Houston Astros' second baseman and American League MVP, is an inspirational story about a consistently underestimated player who rose to the top of his sport. The three-time batting champion was a key part of the team that brought Houston its first World Series Championship. He is recognized for giving back and inspiring a community when it needed it most.
Altuve is the 17th MLB athlete to be named Sportsperson of the Year, joining names like Derek Jeter, Cal Ripken Jr. and Sandy Koufax.
"The city of Houston has treated me really good," Altuve said in an SI interview. "I felt at that time that I owed them something. So when they were having a hard time, I wanted to give something back to them."
Humbled & Honored.
Houston, this is for you and this is for the hundreds of thousands of people who donated from all over the world. pic.twitter.com/GuR6uB0Y6J

— JJ Watt (@JJWatt) December 5, 2017
Watt and Altuve join a list of transcendental athletes that includes LeBron James, Serena Williams, Michael Phelps, Michael Jordan, Muhammad Ali and Wayne Gretzky.
Watt and Altuve will accept the honor at SI's Sportsperson of the Year Award Show on Dec. 5 at Barclays Center in New York.
Since 1954, Sports Illustrated has presented the annual Sportsperson of the Year award to the player, coach or team who has best personified the ideals of athletic achievement and sportsmanship, on and off the field.
It is the tenth time SI has chosen multiple Sportspersons of the Year; the most recent co-Sportsperson of the Year, former Tennessee women's basketball coach Pat Summitt and Duke men's basketball coach Mike Krzyzewski, were awarded in 2011.