This is an archived article and the information in the article may be outdated. Please look at the time stamp on the story to see when it was last updated.
HARRIS COUNTY, Texas — The Harris County Pct. 4 Constable's Office is searching for a man accused of showing an unsuspecting jogger a phone picture of his genitals after approaching her about his fake missing dog. The suspect also had the nerve to allegedly grope the woman's butt when she became upset!
The complainant, who managed to get a picture of the alleged pervert as he walked away, reported the alleged assault Thursday from the Village Creek subdivision, just west of Highway 249 and Spring Cypress Road.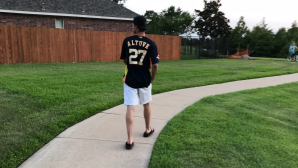 Investigators said the woman was jogging near the 12500 block of Willow Breeze Drive when a stranger approached her and asked if she had seen his missing dog. The suspect offered to show her a picture of the pet on his cell phone, and when the woman looked, it was a picture of private parts.
Now officers are hoping the public can identify him.
If you have any information, please contact the HCCO Precinct 4 dispatch at 281-376-3472.