This is an archived article and the information in the article may be outdated. Please look at the time stamp on the story to see when it was last updated.
HARRIS COUNTY, Texas — The Harris County Pct. 4 Constable's Office is searching for a local man after he and his boss were accused of running an illegal gambling operation out of a convenience store in the north Houston area.
Constable Mark Herman's Regulatory Enforcement Unit executed a search warrant Wednesday at the Time Saver convenience store located in the 13700 block of Walters Road.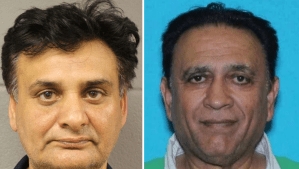 Owner Ghulam Mustafa Khan, 61, and employee Muhammad Riaz, 47, are both charged with possession of gambling equipment or paraphernalia.
Riaz was arrested while working inside of the game room at the time of the warrant execution. The suspect has been arrested previously for gambling related offenses, the constable's office said.
Khan remains on the run.
As a result of the investigation, five illegal gambling devices were located and almost a $1,000 in illicit gambling proceeds were seized. Investigators also located and seized other gambling evidence linking the owner of the game room to illegal gambling.
"If you know or suspect a location of illegal gambling, please contact the Harris County Precinct 4 Constables Office at 832-927-6161 or online," Constable Mark Herman said.