This is an archived article and the information in the article may be outdated. Please look at the time stamp on the story to see when it was last updated.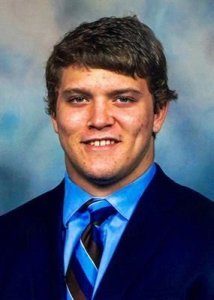 BEAUMONT, Texas — The loved ones of college football standout Blain Padgett are gathering Thursday to lay the Rice University defensive end to rest.
The service is scheduled to begin at 2 p.m. and will be held at the Wesley United Methodist Church in Beaumont. Following the ceremony, interment will be held at the Rosedale Cemetery Sour Lake, according to Broussard's funeral home.
Padgett was found dead inside his apartment on March 2, according to the school. He was 21. No cause of death has been released.
"Our team is devastated by this news," Rice coach Mike Bloomgren said. "All of my thoughts right now are how best to help Blain's family and his teammates in this very difficult period."
Gone, but will not be forgotten. Blain's legacy & mentality will live on!
Our love, prayers and continued support go out to the Padgett family. pic.twitter.com/1FVYeyjoNX

— Mike Bloomgren (@mbloom11) March 6, 2018
Deeply saddened by the loss of Hawk Alum Blain Padgett. Our thoughts and prayers are with your family and all that knew you. Our #7 truly knew what it meant to be a HAWK.

— HJ High School (@HJHSHawks) March 3, 2018
Padgett, a junior from Sour Lake, had 3.5 career sacks with the Owls while leading the defensive line with 41 tackles in 2016. He made the Conference USA Commissioner's Honor Roll in 2016 and 2017.
The school announced Sunday the start of spring practice will be pushed back in the wake of Padgett's death. The new schedule will be announced at a later date.
"Football is secondary to dealing with the loss of a teammate and friend, and our sole concern right now is supporting them in this difficult time," Bloomgren said.
[protected-iframe id="79d9492dbeaec4135f7184b52f132b4e-40471470-108049528″ info="https://www.facebook.com/plugins/post.php?href=https%3A%2F%2Fwww.facebook.com%2FRiceOwlsFootball%2Fposts%2F1956296584400360&width=500″ width="500″ height="281″ frameborder="0″ style="border:none;overflow:hidden" scrolling="no"]
Read More Local Headlines:
Stay connected! Download the CW39 NewsFix app for iOS or Android devices and the CW39 Weather app for iOS or Android devices.