This is an archived article and the information in the article may be outdated. Please look at the time stamp on the story to see when it was last updated.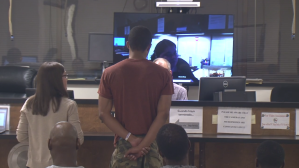 HOUSTON — A local man is claiming self-defense after his father was shot multiple times during a domestic dispute at the suspect's apartment over the weekend in southwest Houston. Early Tuesday, Dentrell Adam Claverie appeared in a Harris County courtroom where his bond was set at $60,000.
The 21-year-old was arrested and charged with murder after police responded to a shooting call about 11:30 p.m. Sunday at Westbury Reserve.
Claverie was at home with his girlfriend and the couple's 6-month-old twin daughters when his 41-year-old father arrived and the two men started to argue.
The couple claims the father criticized the suspect about his lifestyle, called the girlfriend several profane names and threatened to kill the young family. At one point, the father started pushing his son and demanding they continue their dispute outside. The father was asked to leave but refused, saying "the only way he was leaving was in a casket," a defense attorney said in court.
Claverie claims his girlfriend — holding one of the babies — stepped into the room and asked the men to quite down because the twins were sleeping. That's when the suspect says his father shoved the woman, causing her to fall back on the bathroom door. The son said he then went to the bedroom and grabbed a .9 mm handgun before shooting his father up to six times.
Investigators said the victim sustained gunshot wounds to the head, chest and other areas. He was pronounced dead after responding paramedics attempted to revive him with CPR but to no avail.
Claverie remained at the residence until police arrived. He confessed to shooting his father and was taken into custody. The defense said his father has a history of violent behavior and Claverie feared the victim would hold true on his promise to kill the couple and their children.
In fighting the prosecution's request for a $800,000 bond, a defense attorney said Claverie has limited transportation and is the sole financial provider for his daughters and girlfriend, who is currently in school to become a medical assistant. The suspect has no criminal history outside of a misdemeanor trespassing charge from 2015, according to court records.